Water Filtration
World's best water filtration system and water treatment products are now available for your villas at affordable prices.
What is Reverse Osmosis...?
It is a process of water filtration under high pressure using special membranes to remove suspended, dissolved, bacterial and chemical impurities up to 0.0001 (1 micron=1/1000mm) from water. RO removes dissolved contaminants, molecule by molecule from your source water.
Water Purification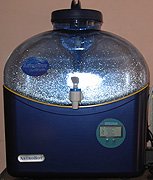 Counter Top
The unique 5 stages of Water Purification
Stage 1: Sediment pre-filter 5 microns that removes suspended impurities present in inlet water.
Stage 2: Granular Carbon pre-filter which removes chemical impurities like Chlorine, odour, colour and other organic impurities.
Stage 3: Extruded Carbon Block to remove smaller contaminants and other remaining chlorine particles – protecting the RO membrane.
Stage 4: RO membrane that eliminates bacteria, viruses, spores and all dissolved impurities thus making your water safe for drinking.
Stage 5: Post filter and polisher that improves the taste of your water.
| | | |
| --- | --- | --- |
| Description/ Model | ROCT: COUNTER TOP | ROWM (10") WALL MOUNTED |
| Flow Rate | 190ltrs. / day | 280 ltrs. / day |
| Dimension | 36cmx 25cmx 46cm | 36cmx 18cmx 48cm |
| Power consumption | 30W | 40W |
| Storage Tank Capacity | 17ltrs. | 10ltrs. (15" Dia) |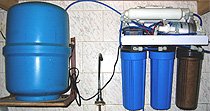 Wall Mounted
Benefits/Use
Removes all toxins, bacteria, viruses, suspended solids and dissolved chemicals.
Makes bore-well/salty water drinkable.
Removes contaminants that may cause high blood pressure, kidney stones, indigestion, gastric bacterial diseases, etc.
Enhances taste by removing undesirable salts and minerals.
Does not use any chemicals to purify your water.
Removes unpleasant water odour.
Washing Machine Filter
Home washing machine filter consists of 10" Housing and a Sediment Cartridge Filter 10". This is an on-line filter, to be incorporated at the inlet of the water line to the washing machine.
Benefits/Use
Clear / transparent housing will allow you to physically see the dirt being removed from the water.
Home Bag Filters
Home Bag Filters are designed to be placed outside the house. The single large acme thread closure ensures quick opening and positive sealing, which stands up to harsh environmental elements. This type of filters removes all suspended particles above 10 micron (1 micron= 1/1000mm)
| | |
| --- | --- |
| Description/ Model: | BF 10 / BF20 |
| Flow Rate: | 3.4 – 4.5 m3 / hr. |
Benefits/Use
Delivers sparkling clear water to the home and reduces problems with plumbing fixtures.
Lightweight corrosion resistant polypropylene construction gives you strength without weight.
Available in 1" and 1 1⁄ 2" NPT sizes.
Comes complete with gauge, wrench and 3/8" drain valve.
Choice of 10" and 20" housings.
Also available, filters for swimming pools and other allied applications.
Electronic Water Conditioner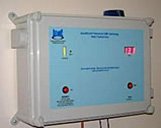 SCALEWATCHER computerized non-invasive water conditioning system with its high-tech RODF technique neutralizes the bonding ability of the minerals that are contained in our water. This effectively breaks down large mineral crystals into tiny mineral particles and prevent them from reacting with other minerals or bonding to any surface to form scale. The process is so effective that existing scales and corrosion are progressively broken down and flushed away in due course of time.
Benefits/Use
Water is scale free; so your floors, sinks, taps & showers stay cleaner, clog free forever.
Soft water is good for skin and hair. Helps dry skin conditions such as eczema and psoriasis.
Soaps, shampoos and detergents lather well and soap scums are reduced.
Clothes wash softer, cleaner and brighter.
Full flowing showers because of less clogging.
Glass spots less and dark stone countertops stay cleaner when washed.
Improves efficiency and extends life of washing machines, dishwashers and water heaters.
Research shows that you save up to 50% on washing powders, soaps, shampoos, etc.
Pressure Booster System
Consists of an automatic pressure controlled pump and a tank which converts low pressure from an overhead tank into high pressure.
Benefits/Use
Consistent water pressure on all floors.
Pressurized full flow shower, which you always wanted.
Consistent water flow in bathtubs, dishwashers, showers and garden hose.
The modern fittings like mixers require an optimum pressure to function efficiently.
Since this pressure is normally not available with an overhead tank, the booster system makes the presence of such fittings more meaningful.
Complete and efficient management of water pressure.
Biosanitizer

BIOSANITIZER is a natural granular catalyst that is used to solve all the water pollution issues. The treatment has no side streams that are produced. Water pollutants are not destroyed (into green house gases like CO2, Methane, NO2, H2S, etc) or separated our (as sludge, precipitate or concentrate stream). Instead, pollutants are converted into resources (oxygen) using the biochemical reactions that have been used by nature over the past 600 million years. 
The BIOSANITIZED water resists scaling, corrosion, algal growth, biofouling, odour producing bacteria, pathogens and pests.
The process is so effective that it is used to tackle inorganic as well as organic pollution in raw water, wastewater and solid waste management.
Biosantizer has been successfully used in the following
Virus Control In Aquaculture.
Sewage Treatment.
Lake Cleanup.
Ecosanitation Of Sewers.
Ecosanitation Of Sewage Streams (Nallas).
Decentralised Sewage Treatment.
Total Water Recycle Odourless Public Toilets.
Decentralised Garbage Composting Units.
Rainwater Harvesting And Flood Control.
Treatment Of Saline And Brackish Groundwater.
Treatment Of Fossil Fuels.
Disaster Management.
Scalewatcher For Water Management
| | | | |
| --- | --- | --- | --- |
| Removes Scale | Removes Biofilm Fouling. | Saves Water | Saves Energy |
| Saves Chemicals | Saves Maintenance | Saves on Capital Equipment. | Converts Pollution to Resource. |
| Once Only Payment With More Than 100 Years Trouble Free Service Expected. | Makes wastewater recyclable. | No Sludge or Greenhouse gases | Provides for cold composting |
For Treatment Of
| | | | |
| --- | --- | --- | --- |
| Hospitals. | Hotels. | Power Stations. | Superstores. |
| Milk Factories. | Poultry Farms. | Apartments, Commercial Buildings & Bungalows | Agriculture |
| Sugar Mills. | Food Processing. | Fertilizer Plants. | Laundries. |
| Refineries Etc. | | | |
To Protect
| | | | |
| --- | --- | --- | --- |
| Cooling Towers | Chillers | Coolpads | Hot Water Systems |
| Process Systems | Heat Exchangers | Evap Condensers | Water Piping Systems |
| Reverse Osmosis | Fountains | Swimming Pools | Spas |
| Boilers | Evaporators | Ash System Scrubbers | Ethanol Distillation Systems |
Replaces Water Softeners, Scrubbing Chemicals, Anti Scaling & Anti Corrosion Chemicals.
Potable Water Treatment
Water Tank Disinfection
Cooling Tower and Boiler Treatments
HVAC and Ductwork Treatment
General Disinfection &amp Sanitation
Industrial Process Water